Debut Album Coming April 2018!
---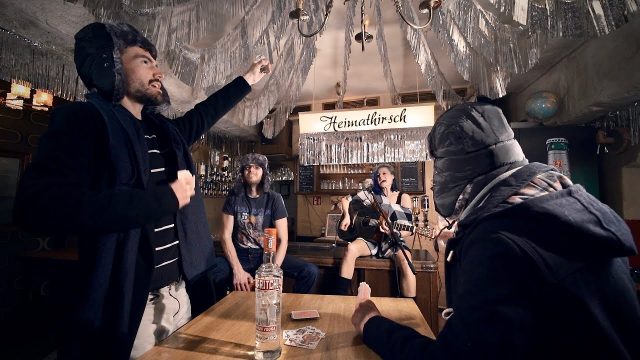 ---
PINSKI
Singing, screaming, and jamming out distorted riffs on her acoustic guitar, PINSKI frontwoman Insa Reichwein is a hard rock songsmith who wears her heart on her sleeve. Those expecting a sweet flower girl delicately strumming folk songs will be disappointed, or more likely, relieved – Insa ignites the stage with refreshingly rebellious energy and manages to make each show a fun, entertaining experience.
Her powerful vocal ability draws in the listener to contemplate the sharp social criticism found in her lyrics. Her compositions feature an interesting mix of alternative rock, progressive metal, and acoustic fingerstyle influences. Performed by a backing band of experienced prog rock musicians, PINSKI strikes a unique balance between heaviness and sophistication.
After over 200 concerts and festivals that led the Cologne-based PINSKI as far as Indonesia, Insa decided to re-launch her project. The recording of her debut album with seasoned rock producer Fabio Trentini (Guano Apes, Donots, H-Blockx, The Intersphere, Subway to Sally) is now completed and scheduled to be released in Spring 2018 – an album recommended to anyone who enjoys heavy rock and is open for something new!
Line-up:
Insa Reichwein – vocals, acoustic guitar, electric guitar
Ian Alexander – electric guitar, backing vocals
Chris Streidt – bass, backing vocals
Stephan Schöpe – drums
PINSKI – schreit und singt, verzerrt ihre Akustikgitarre, schreibt Songs, die was zu sagen haben und wird manchmal richtig böse. Mit unfassbar viel Energie und Herz im Mund. Wer brave Singer/Songwriter Mädchen mit hauchzarter Akustikgitarre mag, ist hier falsch. Pinski rockt ihre Songs mit ihrer stammbesetzten Pinski Band, die sich qualitativ hinter niemandem verstecken muss und fühlbar Spass auf die Bühne bringt. Für alle, die gerne rocken und offen für was Neues sind!
Nach über 200 gespielten Konzerten und Festivals, die Pinski bis nach Indonesien führten, entschloss sie sich 2016 ihr Projekt mit einer Stammbesetzung aufzuziehen und mit ihnen ihr Debut Album aufzunehmen. In Zusammenarbeit mit Rockproduzent Fabio Trentini (Guano Apes, Donots, H-Blockx, The Intersphere, Subway to Sally uvm.) laufen die Albumarbeiten nun auf Hochtouren und Pinski Fans dürfen sich auf das Frühjahr 2018 freuen, wenn endlich die erste Platte rauskommt!
Hinter dem Spitznamen Pinski verbirgt sich Frontfrau Insa Reichwein, die den Namen während ihres Studiums an der HfMT Köln von einem polnischen Kumpel verpasst bekam und ihn aufgrund ihres lebhaften Charakters nie mehr loswurde…
Pinski Records 
+49 (0)176 63 13 71 70
mail ÄT pinskimusic.com